Main content starts here, tab to start navigating
About
Charlotte
Slide 1 of 2
Slide 2 of 2
Located at Atherton Mill in Charlotte's historic South End neighborhood, Indaco (Italian for "indigo") serves Italian cuisine by executive chef Matthew Hoang. Wood-fired pizzas, hand-crafted pastas, housemade salami and cured sausages fill the restaurant's menu which can be enjoyed family-style or a la carte. With an open kitchen, and a comfortable atmosphere, Indaco can seat approximately 85 guests inside for a casual night of food and drinks. The wine list is focused on affordable Italian varietals, the Gin & Tonic cocktail is on tap, and the fresh sodas are made in-house.
Large windows fill the restaurant with natural light that reflects off the white subway tile, wood accents and butcher block tables. An open kitchen invites guests to keep an eye on the action while enjoying the sights and smells of Italian cooking. During warmer months, a 44-seat patio invites guests to dine al fresco.
Partners & Purveyors
Keegan Filion Farms, Harmony Ridge Farms, Tega Hills Farm, New Town Farms, Mountain Creek Farms, Lee's Firewood, Verdant Bread, Urban Gourmet Farms, Wild Hope Farm
Steve Palmer
Steve Palmer is the managing partner of the hospitality and consulting company, The Indigo Road Hospitality Group. Celebrating 10 years of service in 2019, The Indigo Road was founded in 2009 in Charleston, S.C., when Palmer began working with the celebrated restaurant Oak Steakhouse on historic Broad Street. The Indigo Road now owns and operates more than 24 concepts throughout the Southeast. These properties include O-Ku (Charleston, Charlotte, Atlanta, Washington, D.C., Raleigh, Nashville), Tiny Lou's (Atlanta) The Cocktail Club (Charleston), The Macintosh (Charleston), Indaco (Charleston), Oak Steakhouse (Alpharetta, Ga., Nashville, Charlotte, Raleigh, Alexandria, Va.), Colletta (Alpharetta), Mercantile and Mash (Charleston), Bar Mash (Charleston), The Cedar Room (Charleston), Town Hall (Florence, S.C.), Donetto (Atlanta) and Sukoshi (Charlotte). Several projects are also currently in the works, including Sukoshi Atlanta, Indaco in Charlotte and Colletta in Cary, N.C.
During the company's 10th anniversary year, The Indigo Road has been named a Forbes Small Giant and landed a spot on the Inc. 5000 Fastest Growing Companies list, celebrating a decade of continued growth and success. In addition, The Indigo Road's anniversary fundraiser raised $40,000 for Homeless to Hope Fund, a nonprofit supporting the homeless population in Charleston, S.C.
Palmer's passion for and commitment to the hospitality industry has been palpable since the age of 13 and he attributes the company's rapid growth and success to a loyal and dedicated team, maintaining the philosophy that great service starts with well cared for employees. By promoting from within and continuing to create new opportunities for his staff, Palmer has developed a strong company culture that is reflected within the walls of each of his concepts, resulting in an unwavering level of hospitality experienced by guests and patrons.
Prior to forming The Indigo Road, Palmer served as vice president of food and beverage for Ginn Clubs and Resorts. In this role, he managed 11 properties in the Southeast and the Caribbean while simultaneously developing other hospitality concepts for the company. He eventually served as the lead developer for Ginn Resorts and developed over $100 million in hotel and club space.
In 1995, Palmer was recruited as wine director and service manager of Canoe in Atlanta, which received a James Beard nomination for Best New Restaurant in 1996 and was also named one of the Top Five Anticipated Restaurant openings in 1995 by USA Today. Palmer returned to Charleston to become a founding partner for Eidolon, a consulting company specializing in luxury restaurants whose client list includes Planters Inn, Peninsula Grill and Hanks Seafood (the latter two are both past recipients of the Best Restaurant awards in Esquire), and 2nd Empire in Raleigh, N.C.
Palmer also worked with The Ritz-Carlton St. Louis where he co-created the largest private dining wine cellar in The Ritz-Carlton Hotel chain, earning praise from both Wine Spectator and Santé magazine. Palmer then returned to Charleston to become managing partner at the esteemed Peninsula Grill. Under Palmer's management, Peninsula Grill garnered a Relais & Châteaux designation and recognition as one of the country's best restaurants in Esquire, USA Today and Wine Spectator.
Charleston's The Post & Courier named Palmer the second most powerful food and beverage industry player in the city, recognizing him for not only for a growing presence in the hospitality business, but also for his charitable and community efforts. Palmer is a longtime supporter of Share Our Strength's No Kid Hungry and Charleston's Feed the Need coalition, and founded Ben's Friends, a food and beverage industry support group offering hope, fellowship and a path forward to professionals who struggle with substance abuse and addiction, in 2016. Ben's Friends has grown to serve over ten chapters through the United States. Palmer has been recognized by The Wall Street Journal, The New York Times, L.A. Times, NPR, Food & Wine Magazine, Southern Living, for his work, and has presented at TEDx Charleston and various high-profile culinary events including the Charleston Wine + Food Festival. Palmer's efforts have also been recognized by the James Beard Foundation, with two nominations in the "Outstanding Restaurateur" category in 2018 and 2019.
Steve Palmer and Forbes Books will be releasing his first book, a memoir, in late fall 2019.
Matthew Hoang
Executive Chef
Meghann Baumgartner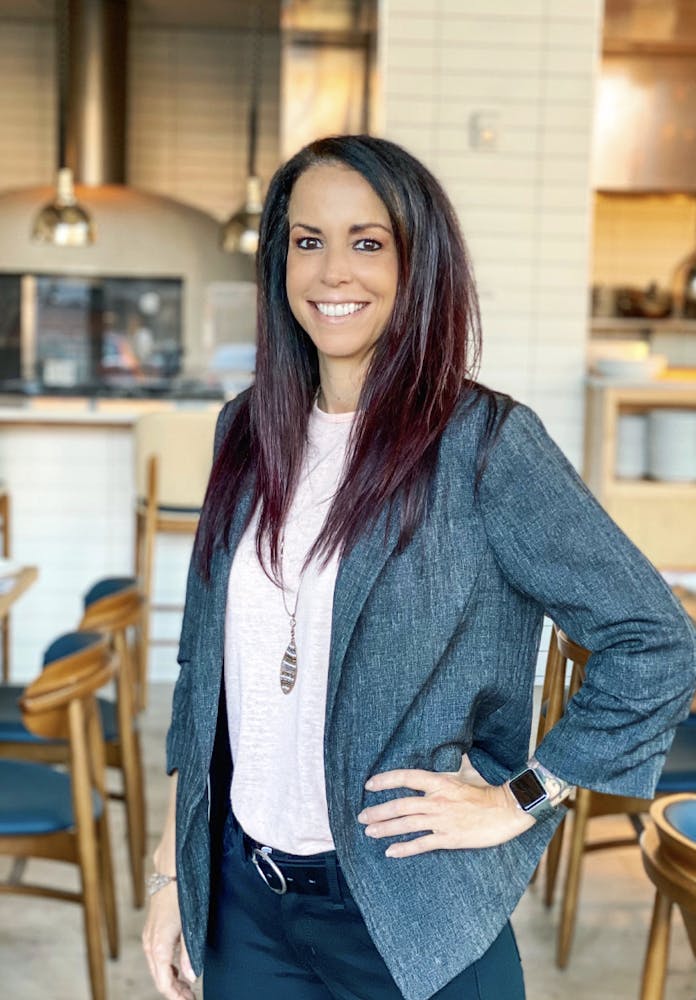 Meghann Baumgartner is the general manager of Indaco Charlotte, a concept from The Indigo Road hospitality group.